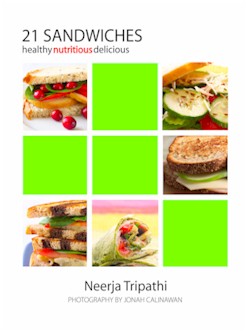 Examine it, try it, use it for a full 1 year without risk. If at the end of 1 year you are not completely satisfied with it, we will refund you your money, no questions asked.

Adobe Acrobat Version Price - $5.95
Availability: Available for download now
Edition: e-book (Adobe Acrobat)
File Size: 2.6 MB
Windows, Macintosh, Linux, Unix Compatible: Yes
Required Free Software: Adobe Acrobat Reader
Publisher: Delicious Globe; (April 2006)

About The Author
You can have filling, refreshing, tasteful and healthy meals in a matter of minutes.
This inexpensive e-book contains 21 original and well tested recipes that you can easily prepare on your countertop. I created them all in my kitchen, sometimes from scratch and sometimes by adapting a known recipe.
Kids will eat vegetables in a sandwich or a sub when they would not do so otherwise. Prepare quick meals fo your family using these recipes.
These are the sandwiches that I have made again and again. For this book I chose only those recipes that consistently generated a Wow! You will not find these recipes anywhere else.
Even if you make one sandwich only once using a recipe from this book instead of going out, you will recover the cost of this book.
"Sandwiches are a blessing in today's busy lifestyle. They combine many essential food groups with convenience and portability. With all the different kinds of cheeses and delicious breads available, there is no end to the refreshing, filling gourmet treats you can create, in a matter of minutes, right on your countertop. " (from the e-book)
The book contains recipes for 21 tasty sandwiches including:
Rye with Roasted Cumin

Portabella on Kaiser

Southwest Grilled Cheese Sandwich

Baby Spinach On Rye

Paneer In Whole Wheat Pita

Leek And Paneer Sandwich

Cucumber And Watercress Sandwich

Brie with Walnuts and Arugula on Ciabatta Bread_

Smoked Mozzarella and Baby spinach on Rye with crushed Cranberries

Watercress And Water Chestnut Sandwich

Grilled Chicken with Cilantro Pesto And Roasted Bell Pepper

Smoked Turkey With Pear

Turkey- Watercress Sandwich Wrap

Char-grilled Fish with Arugula
Helpful information and tips for making great sandwiches are included in the book.